Who did the walk?
Dave Phoenix walked across the Australian continent in 2008 in the faded footsteps of the explorers Burke & Wills. He was assisted by a support crew of one.
Dave's bio.
Dave has been fascinated by the Burke and Wills saga ever since his first visit to Cooper Creek fifteen years ago.
The love of the outback, and Cooper Creek in particular, saw him leave his post as outdoor education teacher at Knox Grammar School in Sydney to take the opportunity of living in Innamincka.
Now living in Cairns in Tropical Far North Queensland, Dave is a postgraduate research student at James Cook University studying for a PhD in Australian exploration history.
Dave is the President of The Burke & Wills Historical Society and has presented papers at the Society's conferences in outback Queensland and Melbourne. www.burkeandwills.org.
He is also webmaster of the most comprehensive website on the expedition, 'Burke & Wills Web', www.burkeandwills.net.au.
He has travelled the route from Melbourne to the Gulf a number of times and has spent a great deal of time at Cooper Creek and in the Strzelecki Desert undertaking field research into the last weeks of Burke and Wills' lives.
In June 2007 as part of the preparation for the 'Burke & Wills Walk 2008' Dave walked across the Simpson Desert with Paddy McHugh who accompanied Tom Bergin on his 1977 Burke and Wills camel trek.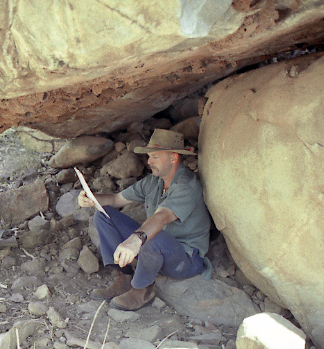 'No feat of endurance, only a pleasant excursion.'
George Ernest Morrison after walking from Normanton to Melbourne,
21st April 1893.