In Collins Street standeth a statue tall -
A statue tall on a pillar of stone,
Telling its story, to great and small,
Of the dust reclaimed from the sand waste lone…
…He lay on the desert a dying man,
Who has gone, my friends, where we all must go.
Extract from 'Gone' by Adam Lindsay Gordon.
Published in Poems by Adam Lindsay Gordon, Melbourne, 1893.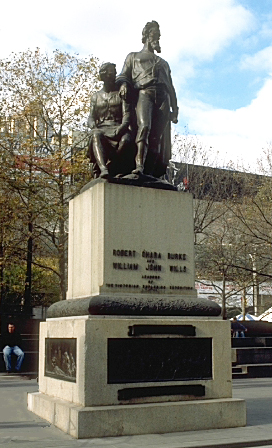 You can see the statue,
Watched by civic clock and
stained by pigeon rains.
And there he is, blessed by hoary arms,
Hoisted by the adventurer who imagined
Distance reduced to a continental walk.
Extract from 'William John Wills writes his ending' by Peter Gebhardt © 1992.
Meanjin, Vol 51, No 4, Summer 1992.